Saying that your product is the best in the market won't cut it in this digital age. Modern-day customers are getting smarter and wiser, and the internet is helping them make better purchasing decisions. These days, they can find out everything they want to know about a product or service before zeroing in on the one that's right for them.
This is the journey that every buyer goes through.
The buyer's journey not only helps marketers think like a customer; it also allows search engines like Google to help consumers go through their search process with little to no trouble. True enough, since around 67% of buyers' research and influence happens digitally. If you want to maximize your SEO strategy, make sure to align it with each stage of the buyer's journey.
What is a Buyer's Journey?
In essence, the buyer's journey is a process that's composed of specific stages the buyers take when purchasing a product or service.
It has three stages: awareness, consideration, and decision. Some may begin their journey from the beginning, while others may start in the middle. There are also those that go through the entire buyer journey very quickly, while some take quite a while.
Below is a visual representation from Moz that illustrates the purchasing journey of a customer.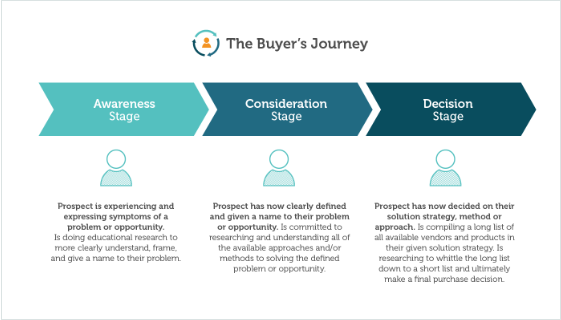 Stage 1: Awareness
This first stage of the buyer's journey is all about discovery. This is where the buyer recognizes they have a problem but aren't sure what it is specifically. More often than not, they'll turn to Google for some answers. In this particular stage, the consumer is eager to find quality, educational content that can help them pinpoint the culprit or cause of their problem.
Stage 2: Consideration
Once the consumer clearly identifies their pain point and gathers enough information and opportunities to solve the issue, they move on to "considering" the myriad of possible solutions.
This is the phase where they have decided to address the problem and look for different methods or partners to help solve their issue. Thus, beginning their search for a service provider.
Stage 3: Decision
Finally, we reach the decision stage. Their search for potential solutions eventually leads buyers to narrow their choices of vendors and find the best company to work with. Typically, consumers are ready to buy at this stage, and they're just making comparisons and assessing reviews to identify the service provider that meets their needs.
This stage is also where the buyer consumes additional content to support their requirement for a vendor. It is also where they ask the executives or decision-makers to approve the purchase (if they're not the ones handing out approvals themselves).
Identifying Your Buyer Persona
Understanding the fundamentals of the buyer's journey helps you identify and fill in the gaps in your marketing strategy. But before you dive head-first into it, you need to develop buyer personas to help you personalize your marketing collaterals and target specific segments of your audience base.
Each type of buyer has different demographic details, pain points, priorities, goals, experiences, considerations, intent, behavior, and buying patterns when they go through their own purchasing journey.
Creating customized profiles of your ideal customers allows you to learn more about what type of content drives them to engage with a brand or motivates them to purchase. This helps in content creation, product development, sales approach, and anything that deals with customer acquisition and retention.
Simply put, buyer personas help you better target and humanize your marketing strategy by perceiving them as real people. Below are the basic criteria that shape a customer profile:
● Job title and responsibilities
● Demographic details (i.e., age, gender, income, location, education)
● Psychographics (i.e., attitude, interests, values, personality traits, priorities)
● Goals
● Challenges
● Buying process (i.e., buying behavior, role in the buying process)
Once you've created your buyer personas (3-5 profiles are ideal), you may start studying how to fit your content to these demographics, align it to the buyer's journey, and finally, use the information and your findings to implement an unparalleled SEO strategy.
Your persona can be short and straightforward or long and detailed, as long as it includes all the necessary information. To help you better understand what a buyer persona looks like, here's a fictional example:

Michael Schrute – Potential Project Management Software (CRM) Buyer
Background: Michael is a well-put executive who likes to keep everything organized, documented, and transparent. He always finds ways to refine processes to make it easier for the company and employees to perform their work. Michael's the type of person who's always in-the-know about the latest gadgets and tech news.
Title: CTO
Decision-maker: Yes
Industry: Digital Marketing
Age: 30-45
Salary: $70,000/year
Education: B.S. in Information Systems
Location: Brooklyn, New York
Goals:
● To grow a productive, strong, and collaborative company
● To keep track of everyone's work performance, tasks, and time logs
● To boost efficiency and streamline the process
Challenges:
● Needs to improve project management tracking process
● Current software often crashes or goes down
Aligning Your SEO Strategy to the Buyer's Journey
While the fundamentals are the same, the approach has evolved. To tap your ideal clients and win in this ever-evolving time, you need to keep your SEO and content marketing tactics in harmony with the purchasing behavior of consumers.
1. Awareness
Scenario: Michael realizes that the company's current project management system brings more inconvenience than usability. He goes on the internet for how-to articles and initiates a general inquiry on how to improve their system.
Objective: Build brand awareness for your product or service and educate the buyer
At the first stage of the buyer's journey, the goal is to build awareness about your brand. Bear in mind that at this phase, Michael isn't looking to purchase anything just yet, he doesn't have anything specific in mind. So, he's unaware of your business and his particular needs.
As a marketer, it's your job to create awareness for your company, products, and services, so potential buyers can understand what you do, what you offer, and in what ways you can help him. But, your content materials should focus more on your prospect's pain points rather than your brand.
This is the part where Michael's research about the problem begins. The keywords are likely general search terms that are question-based since he's still investigating the issue and exploring options.
Search terms for this stage are:
"How to improve task creation"
"How to streamline task template [current project management system brand]"
"What causes [current project management system brand] to freeze"
SEO Strategies to Consider:
How-to content – This could be in the form of a blog post or video. How-to content can walk prospects through their conundrum and open their eyes to your product/service as a consideration. Make sure to link your target keyword to relevant pages in your consideration stage materials.
Videos – Promotional videos found on your website or page content can spark audience interest around your product or service.
Pillar page – This covers all topics related to the product, service, or keyword, which the buyer is looking into in more detail.
Whitepapers and eBooks – These materials can provide more in-depth information, which can come with relevant statistics or reports to help the prospects better understand the problem.
Quick tip: Ensure that these resources are readily available on your website so buyers like Michael can access it when doing research. You can use a marketing automation tool to help you keep track of content downloads and gather prospect information. The data can give you more insights about interested prospects and help you refine your buyer persona's preferences.
2. Consideration
Scenario: After acknowledging that his current project management system has incompetent features, he thinks that replacing it altogether is the best course of action. So, he starts asking recommendations from friends, read reviews, and research more about what's available out there.
Objective: Nurture and build trust through your content
In this stage, Michael has discerned that he needs more automation and handy features in his project management tool. Since he's already well-informed about his problem, he starts to seek content that can help him compare features, evaluate his options, and review the different tools and vendors available.
This is also the stage where Michael will start to reach out to the vendors, whether through a sales rep or general email. The move indicates that they're on a deep dive in narrowing and comparing their options, so they start inquiring to examine the features that matter most for his company.
Simply put, this is the stage where Michael determines whether or not your brand and product are good enough for him. As he moves past the awareness stage, his search keywords change from "how to's" to "best/top" queries.
Search terms for this stage are:
"Top project management system"
"Company A/Company A product review"
"Company A and Company B comparison"
SEO Strategies to Consider:
Video tutorials – Video tutorials on how to use your CRM tool can help prospects like Michael take a good look at your service for consideration.
Landing pages – Landing pages direct customers to a specific product or service, which can influence them to take action. This is also useful for collecting lead data, like names and email addresses for sending email newsletters/offers.
Blog posts – Blog posts are generally helpful for growing search engine traffic as they target keywords from each stage of the journey, for each buyer persona.
FAQ page – This helps answer the prospect's burning questions about your offering. It can help in their comparison of products/services and vendors.
Pillar page – Since this discusses topics in depth, prospects can find everything they need to learn about your product or service through this content.
Link building – Acquiring external links from authority websites boosts your site's domain authority and search rankings, which can help grow your visibility when prospects start searching. Not just for the awareness stage, but for all stages of the funnel.
Quick tip: You can use Google Analytics' Site Search Reporting to view a myriad of keywords you can use to customize your campaigns for each buyer persona.
3. Decision
Scenario: Now that Michael has narrowed down his search for solutions and vendors, he's finally ready to make a purchase.
Objective: To close the sale
As a marketer, this is your chance to brag about your product or service. You can create content, like blog posts or product pages, that provides in-depth information about the product and its features. This is how you can address Michael's doubts, and finally convince him to purchase.
When you've successfully implemented the right strategies, and tailored content for both the awareness and consideration stage, prospects like Michael become paying customers.
Buyers have likely done enough research prior to reaching this stage, so chances are they won't go to Google or other search engines for help. After all, they already have their options. Instead, you can focus on injecting branded keywords in your content to drive buyers like Michael to the right pages (i.e., live demo, free trial page, product/service page)
Search terms for this stage are:
"Company A CRM pricing"
"Company A CRM tutorial"
SEO Strategies to Consider:
Free trials and live demo pages- Pages, email newsletters, and ad copy that informs buyers of a free trial drive warm, qualified leads like Michael to test it out and eventually, commit to purchasing the product or service.
Success stories and reviews – Produce case studies and customer testimonials prove to prospects what past and current clients have achieved by working with you.
Quick tip: When crafting content and copy for your decision stage materials, remember to speak the language of your target audience. In this case, Michael is a top executive. You might want to drop phrases like "creative new approach" and "increase revenue" to attract these leaders.
Important note: keywords are highly crucial in your SEO tactic and most especially, in each stage of the journey. Make sure to perform keyword research for all three stages. That's how your prospects find your brand, after all.
Make sure to naturally insert your target keywords in your on-page SEO elements for optimization (i.e., H1 tag, page title, image alt text, meta description).
SEO Strategies Must Be Aligned with the Buyer's Journey
The buyer's journey is a vital part of inbound marketing and successful SEO campaigns. Because of the internet and powerful search engine algorithms, marketing has dramatically changed. From intrusive strategies, marketers now move towards laying out value-based and customer-centric marketing delivered at every stage of the customer's journey.
Your website is your brand's best sales representative, and with that, you need to develop tactics and content that cater to the purchasing behavior of your target persona(s).
If you're interested in implementing SEO strategies mapped out according to your buyer's journey and buyer personas, SEO Company is just the partner to assist you. Inquire now for a consultation!